NYS Masters Championship
Individual Registration Opens: Thu, Jan 3. Closes: Fri, Mar 22
Relay-Only Registration Opens: Fri, Mar 1. Closes: Fri, Mar 22
Meet Dates: Friday, Saturday and Sunday April 5, 6 and 7, 2019
Fees: There is a flat meet fee of $30 for all swimmers + $5 per event. Swimmers are allowed a maximum number of 7 individual events for the meet with no more than 6 events per day. Relays are free and earned points will count towards team standings, with official times.
2019 USMS Spring Nationals
April 25-28, 2019, Mesa, Ariz.
Entries for Spring Nationals will open by mid-February. Stay tuned to this page for more event information. See you in Mesa!
Canandaigua Masters Invitational
Registration Deadline: Wednesday, Feb. 13
Meet Date: Sunday, Feb. 17, 2019. Warmups start at 8:30 AM; Meet starts at 9:30 AM
Location: Canandaigua Academy
Fee: $35 per swimmer, includes up to six individual events and relays
UB Club Swimming Spring Invitational
Entry Deadline: February 22, 2019 at Noon
Date: Saturday February 23, 2019. Warmups will begin at 12:30 PM and the meet will start at 1:30 PM.
Location: UB Alumni Arena
Buffalo Masters March Madness
Registration Deadline: Tuesday, February 26
Meet Date: Sunday March 3, 2019
Location: Kissinger Pool, Houston Gym, Buffalo State College, 1300 Elmwood Ave., Bufffalo NY 14222
Fees: $35 per swimmer. Includes 6 individual events and relays.
Emerald City Circuit
Date: Sunday, February 3, 2019
Facility: West Genesee High School Pool. Located at 5201 West Genesee St., Camillus, NY 13031.

Meet Info
Results
2019 Winter WhiteOut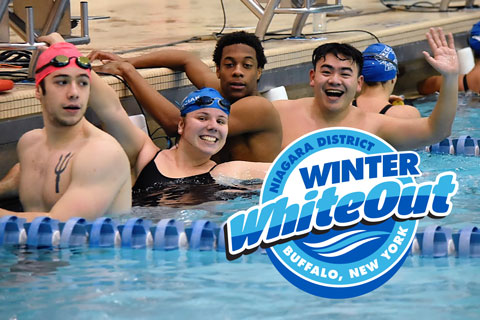 Jan. 20, 2019: Our first meet of 2019 was a huge success! Thank you to everyone who participated, and to our volunteers and officials who made this meet possible!

Photo Album
Meet Results (You can also search Meet Mobile for "Winter White Out")
Meet Info