Nickel City Splash
US Masters Swim Programs
Sign up to Join Our Mailing List
News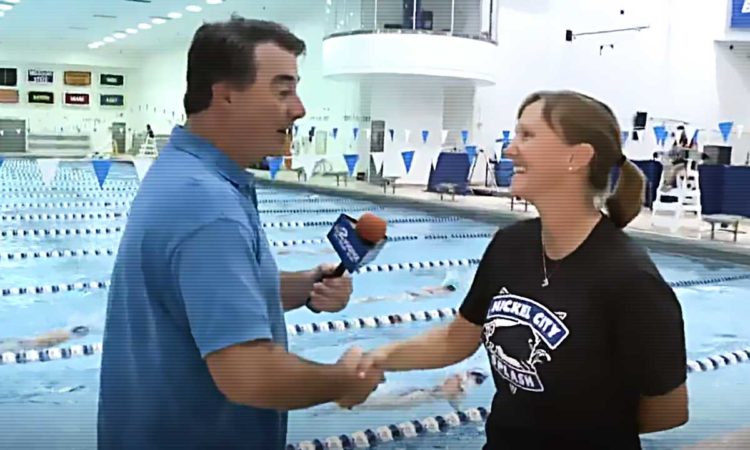 On Thursday morning, Sept. 12, Kevin O'Neill of Channel 2 News visited practice and spoke with Coach Brandi about the benefits of […]
Click here to register for the Buffalo Home Sellers 5K! This special event will fund our instructional and life-saving Nickel City Splash […]
Coaches
Brandi
Head Coach
Brandi
Head Coach
Brandi was born in Southern California and is a US Masters Swimming certified coach. She has been coaching swimming for more than 20 years and was named the Niagara District 2018 Coach of the Year! She enjoys working with swimmers of every age and ability. Brandi has coached beginner swimmers and triathletes, Olympic Trial qualifiers, Masters national record-holders and every level in between. Brandi enjoys helping athletes learn to love swimming, challenging themselves and using the camaraderie of Masters swimming to add to their enjoyment of life!
Jennifer
Asst. Coach
Jennifer
Asst. Coach
Jennifer is Adult Learn-to-Swim certified and is the Niagara LMSC's interim registrar. She enjoys working with those who are new to the sport, as well as those who are looking to build their confidence. Jennifer especially likes to work with triathletes and any swimmers who are interested in triathlon.
Both of her daughters love swimming and swim on a USA Swimming club. Jennifer is a USA Swimming Stroke & Turn Official and can be found on deck at local swim meets in which her girls are competing.
Jennifer was officially diagnosed with Multiple Sclerosis in 2000, but has not let the disease define, limit or stop her from doing what she loves.
She is from Buffalo and swam for North Tonawanda before taking up cross-country running. She didn't get back into swimming until she was sidelined by leg injuries from running. She has participated in various swim clinics on freestyle stroke and open water swim technique. In 2014, she added biking to her rotation and competed in her first triathlon. She was the 2014 Score This Sprint Distance Series second-place winner in her gender/age group, and the 2015 Score–This Intermediate Distance Series third-place winner in her gender/age. In 2016, she was the IronMan Lake Placid Triathlon Feature Athlete and finished comfortably in 15 hours 9 minutes.
Jason
Asst. Coach
Jason
Asst. Coach
Jason's favorite part of coaching is helping swimmers stay healthy while having fun! He has coached two state champions in his time as a summer league coach, a USA Swimming coach, a Special Olympics coach and as head coach at Nardin Academy.
Jason is a former college swimmer who swam backstroke, butterfly and distance freestyle at Niagara University. He started competing at the age of 8 so he could convince his mom he was a good enough swimmer to be able to surf. He dedicated himself to the sport, was named Most Improved, and became the first athlete from his high school to compete at the Texas 5A state championships.
Beloved Previous Assistant Coaches
Charles
Charles
Charles was born in Westchester, New York, to parents Steve and Heather. He attended Iona Preparatory High School and then moved on to the University at Buffalo where he earned a degree in Communications. Charles began swimming at the age of six. He attended many Nationals, Junior Nationals, and State Championships during his swimming career. He was a four-year member of the Men's Swimming and Diving program at Buffalo from 2013-17. He has loved swimming since a young age and his love for the sport has continued into coaching. While in Buffalo, he was a part of many camps and clinics, and realized coaching is what he wants to do in the future. Charles is currently living in the Land Down Under.
Brittney
Brittney
Brittney was born in Elkhart, Indiana. She attended Northridge High School where she swam for the Northridge Area Swimming Association (NASA) club and for her high school. In high school, she won an Indiana state title in the 500 freestyle and broke three individual school records. Brittney swam for UB, where she broke the 200 fly record and had top-8 finishes at MACS. She got her Bachelor's in Exercise Science and is studying to be a Doctor of Chiropractic at D'Youville. She currently coaches young swimmers at a local USA Swimming club.
Ben
Ben
Ben was born in Phoenix, Arizona, where he competed for Sun Devil Aquatics and Mesa Aquatic Club. He moved to Washington, D.C., to attend college at George Washington University, where he competed for four years with the Varsity Men's Swimming and Diving Program (2013-17). During his collegiate career, Ben competed for several school record-breaking relays, and was a part of the 2016-17 Atlantic 10 conference championship-winning team – a first in program history. He holds all-time top-10 performances in the 200 freestyle, 100 butterfly, and 200 butterfly.
Ben moved to Buffalo in January 2018 to join NRG Business Solutions as an analyst, and is excited to share his passion for swimming with Nickel City Splash! He especially enjoys working one-on-one with masters athletes on technique.