US Masters Swimming Team and Adult Learn-to-Swim Program
Nickel City Splash
USA Masters Swimming Programs
USA Masters Swim Team
Our Masters swim team practices at UB's Alumni Arena and is open to everyone who wants to develop their swimming skills. Our members range from former college athletes to swimmers who want to stay in shape or train for an event.
Adult Learn-to-Swim
For any adult who wants to learn how to swim and be safe in and around the water. These lessons are for anyone who cannot swim, wants to learn breathing techniques, or wants to swim laps for fitness. All lessons are taught by trained, adult instructors.
Private Lessons
Swimmers can schedule private lessons with one of our coaches. Lessons are available on Saturdays from 8:00 - 8:30 AM, or 8:30 - 9:00 AM. It is $60 for a 30-minute private or semi-private lesson.
Travel Team
The Travel Team is our competitive squad that competes at regional and national meets. (More info coming soon.)
Adult Learn-to-Swim Program
Friendly, quality swim lessons for adults of all skill levels! Saturday mornings from 8:00–9:00 AM at UB Alumni Arena. Sponsored by Swimming Saves Lives.
LEARN MORE
If you need to register for — or update — your USMS membership for 2024, please use the link below.
REGISTER or RENEW USMS
What Our Members Say
I appreciate all of you making me feel welcome! My first day, I was late, couldn't find my way to the room, and incredibly nervous. All of the progress I've made and the level of comfort I have in the pool is because of the coaches and team!

Derrick

New Member
I tried kicking without bending my knees too much and it was tough! I really had to engage my core. I really liked Tuesday's kick drills. Also liked the breaststroke today. The explanation was very interesting and helpful. Coach Judy is great!

Cindy

Long-Time Swimmer
Brandi's cheerful personality always has us looking forward to practice! She's easy-going and is an excellent instructor for swimmers of all levels.

Jason

World's Okayest Swimmer
Coaches
Brandi
Head Coach
Brandi
Head Coach
Brandi was born in Southern California and is a US Masters Swimming certified coach. She has been coaching swimming for more than 20 years and was named the Niagara District 2018 Coach of the Year! She enjoys working with swimmers of every age and ability. Brandi has coached beginner swimmers and triathletes, Olympic Trial qualifiers, Masters national record-holders and every level in between. Brandi enjoys helping athletes learn to love swimming, challenging themselves and using the camaraderie of Masters swimming to add to their enjoyment of life!
Judy
Asst.Coach
Judy
Asst.Coach
A native of Bowmansville, Judy completed her undergraduate education at SUNY Cortland in 1984, and her graduate degree from James Madison University 1987, both in Physical Education.
After nearly 20 years coaching college swimming (JMU, Union College in Schenectady, and Bryn Mawr), Judy transitioned to raising funds in support of higher education.
Now, serving as Senior Director of Advancement for the UB School of Engineering and Applied Sciences, Judy is happy to have returned home after many years to support UB and live in close proximity to family and friends. She spends her free time organizing and decorating her home in Buffalo, exercising, and entertaining her three cats.
Jason
Asst. Coach
Jason
Asst. Coach
Jason's favorite part of coaching is helping swimmers stay healthy while having fun! He has coached two state champions in his time as a summer league coach, a USA Swimming coach, a Special Olympics coach and as head coach at Nardin Academy.
Jason is a former college swimmer who swam backstroke, butterfly and distance freestyle at Niagara University. He started competing at the age of 8 so he could convince his mom he was a good enough swimmer to be able to surf. He dedicated himself to the sport, was named Most Improved, and became the first athlete from his high school to compete at the Texas 5A state championships.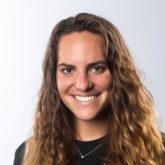 Morgan
Asst. Coach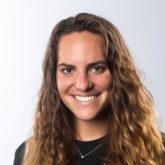 Morgan
Asst. Coach
Morgan is from a small town in Michigan and was a record-setting member of the West Virginia Univ. swim team, where she specialized in butterfly, IM and freestyle. As a Mountaineer, she was a two-time NCAA qualifier and an All-American Honorable Mention, after finishing 15th in the 200 butterfly. Since graduating in 2020, she has been an assistant coach at Niagara Univ. and the Univ. at Buffalo.
In her free time, Morgan enjoys boxing, lifting weights, checking out the Buffalo food scene, the Buffalo Sabres, and watching Bills Mafia leaping through tables.
Beloved Previous Assistant Coaches
Charles
Charles
Charles was born in Westchester, New York, to parents Steve and Heather. He attended Iona Preparatory High School and then moved on to the University at Buffalo where he earned a degree in Communications. Charles began swimming at the age of six. He attended many Nationals, Junior Nationals, and State Championships during his swimming career. He was a four-year member of the Men's Swimming and Diving program at Buffalo from 2013-17. He has loved swimming since a young age and his love for the sport has continued into coaching. While in Buffalo, he was a part of many camps and clinics, and realized coaching is what he wants to do in the future. Charles is currently living in the Land Down Under.
Brittney
Brittney
Brittney was born in Elkhart, Indiana. She attended Northridge High School where she swam for the Northridge Area Swimming Association (NASA) club and for her high school. In high school, she won an Indiana state title in the 500 freestyle and broke three individual school records. Brittney swam for UB, where she broke the 200 fly record and had top-8 finishes at MACS. She got her Bachelor's in Exercise Science and is studying to be a Doctor of Chiropractic at D'Youville. She currently coaches young swimmers at a local USA Swimming club.
Ben
Ben
Ben was born in Phoenix, Arizona, where he competed for Sun Devil Aquatics and Mesa Aquatic Club. He moved to Washington, D.C., to attend college at George Washington University, where he competed for four years with the Varsity Men's Swimming and Diving Program (2013-17). During his collegiate career, Ben competed for several school record-breaking relays, and was a part of the 2016-17 Atlantic 10 conference championship-winning team – a first in program history. He holds all-time top-10 performances in the 200 freestyle, 100 butterfly, and 200 butterfly.
Ben moved to Buffalo in January 2018 to join NRG Business Solutions as an analyst, and is excited to share his passion for swimming with Nickel City Splash! He especially enjoys working one-on-one with masters athletes on technique.
Lauren
Lauren
Lauren swam at Michigan State, where she earned her Bachelor's degree in kinesiology. She has coached at the club and collegiate levels, as well as leading and developing swim lessons for children. A wife and mother of two, Lauren resides in Cheektowaga.